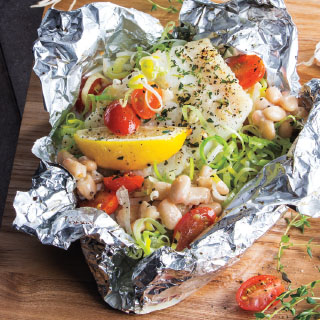 Seafood Made Simple!
Seafood does your body good! It supplies heart-healthy omega-3 fats, plus vitamin D, selenium and protein. Experts recommend eating two, four-ounce servings of fish each week, yet many of us don't meet this goal. If you are new to preparing seafood at home or in need of fresh ideas, give these a try.
Salmon
Preparation tip: The minimum internal temperature for fish and shellfish is 145°F. Translucent when raw and opaque when cooked, salmon should flake apart easily with a fork when done.
Flavor pairings: Rosemary, thyme and root vegetables pair well with salmon. Bold Asian flavors such as teriyaki, sesame and ginger complement grilled salmon, whether in a sauce or a marinade.  
Cod
Preparation tip: Make sure your grill is hot and cod is oiled before cooking.
Flavor pairings: Preserve the delicate flavors of cod by seasoning it with fresh herbs such as parsley or thyme, or Italian seasonings.
Shrimp
Preparation tip: Peel and devein shrimp by grasping the head and pulling the shell and legs away from the body.
Flavor pairings: Marinate in citrus, chiles and other fresh flavors to create ceviche, a popular dish from Peru. Or spice things up with Thai flavors like garlic, honey lime and fresh ginger.