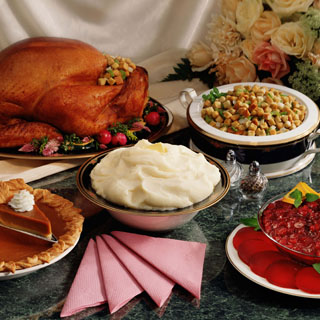 Say YES! to Leftovers
Try these other delicious ideas that will take your Thanksgiving leftovers from boring to brilliant.
Asian Baguette Sandwich
An international-inspired sandwich, layer turkey, mayonnaise, Asian chile sauce, cucumbers, carrots and fresh cilantro on a baguette. Add more heat with sliced, fresh jalapeños!

Cranberry Tartlets
Make bite-sized pies with refrigerated pie crust and cranberry sauce. Serve with turkey sandwiches.
Turkey, Sweet Potato & Arugula Salad
Combine peppery arugula, crisp radishes, leftover roasted sweet potatoes and a generous amount of turkey with your favorite dressing.

Cranberry Pancakes
Top a stack of pancakes with cranberry sauce or put the cranberry sauce right in the batter, either way the tart berries are an excellent pairing with sweet pancakes.
Turkey, Cheddar & Green-Apple Sandwich
Create a hearty sandwich with turkey, slices of Cheddar, thin slices of tart apple like Granny Smith and whole-grain bread. Dress with coarse ground mustard.
Turkey Avocado Salad
Combine chopped romaine lettuce, sliced radishes, sliced carrots, avocado, leftover squash or Brussels sprouts, and turkey. Top with ranch dressing.

Mashed Potato Patties
Form patties with leftover mashed potatoes, chopped onion, egg and parsley. Pan-fry in oil until golden.